North Carolina Therapists
Meet Our Team:
If you're looking for extra support and guidance through a challenging situation, turn to our amazing team of therapists at Divine Wellness Therapeutics Center located in Hope Mills, NC. Our solution-focused and systematic therapists will work with you towards achieving your goals. Call us for an individual, couples, or family therapy consultation today.
Robyn Mirassou, MA, MFT, LCMHC
Robyn Mirassou LCMHC, MFT, was born in California, raised in Oklahoma, and currently resides in Fayetteville, North Carolina. Robyn is a Marriage and Family therapist and AAMFT supervisor candidate. She received her master's degree in Clinical Mental Health Counseling from Campbell University and is currently attending Antioch University New England as a Doctoral Candidate for Marriage and Family Therapy. Her passions are, her faith, spending time with her family, music and helping others. Robyn's dissertation work is in biofeedback in couple counseling and will soon be certified in biofeedback. Robyn is currently being trained in Gottman therapy and working toward certification.
Her experience includes working with at risk children at an alternative school, creating a position of therapy at a free clinic working alongside doctors, using a holistic approach to provide free services to those in need, working alongside a play therapist serving individuals and families ranging from 5 years old and up, and working at a marriage and family therapy clinic at Antioch University, serving couples, families, and individuals. Robyn's life experiences and challenges have helped her to see the benefits and strength that come out of facing ones challenges and coming out as an overcomer, she believes that this has helped her to better understand her clients and help them walk through their journey of healing. Robyn's goal as a clinician is to give the unconditional support her clients need to see their own strength to get through their current struggles, and to help the clients become emotionally healthier and happier in who they are and who they want to be, both individually and systemically. Robyn takes a collaborative approach in working with clients as she knows that, though we are the experts of therapy, the clients are the experts of their own lives and their own families. She believes that bringing the two expertise together, can create an environment for exploration and growth in a way that will encourage the change the clients are looking for.
Krista has served 10 years in the U.S. Army, and has been a Military Spouse for the past 7 years.
Krista is a North Carolina Licensed Clinical Mental Health Counselor Associate. She is originally from Florida where she studied Psychology and earned her Bachelor's degree at the University of Central Florida. She later went on to study Clinical Mental Health Counseling at the University of Kentucky where she earned her Master's degree.
Krista has served 10 years in the U.S. Army, and has been a Military Spouse for the past 7 years.
Krista's understanding of the Military lifestyle from both sides brings a unique and comprehensive perspective to challenges Military families face. Krista has experience working with couples, families, and individuals. Specializing in depression, anxiety, trauma, life transitions, and sexuality.
Krista believes the therapeutic relationship begins with and empathetic understanding and trust at the forefront of the partnership. She applies her experience in combination with a dynamic approach utilizing Emotion Focused Therapy, Cognitive Behavioral Therapy and Client Centered modalities to bring each client an individualized strategy to achieve their therapeutic goals.
Gabrielle (Gabby) Baldwin, LCSWA, LCASA
Gabrielle (Gabby) Baldwin was born in the state of California. Gabby was raised mostly in Raeford and graduated high school from Hoke County High. Gabby is a proud U.S. Army Veteran who uses her relevant experience and knowledge to assist other active-duty service members and veterans. Gabby is also a first-generation two-time alumnus from the University of North Carolina at Pembroke; earning a Bachelor of Science in Psychology and a Master of Social Work with an Emphasis in Substance Use and Addiction Recovery (Summa Cum Lade). 
Gabrielle presides to practice under the licensure of a Licensed Clinical Social Worker (LCSWA) and a Licensed Clinical Addictions Specialist (LCASA). Gabrielle has more than seven years of mental health experience and specialized in serving both the disadvantaged and minority populations. Gabby serves both children and adults and is devoted to providing positive strengths-based practice to her members.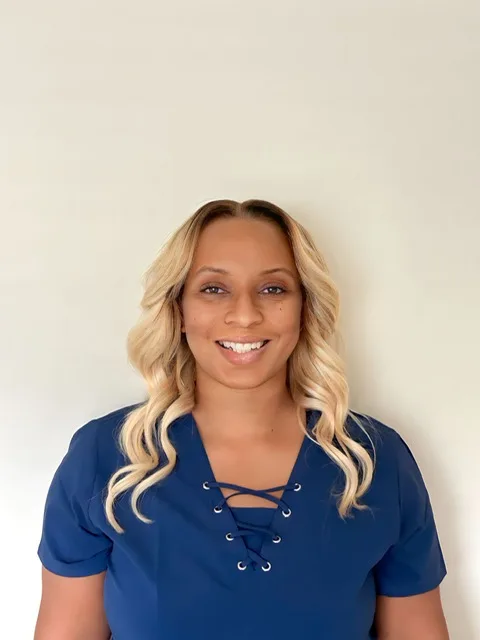 Michelle Murchison LMBT was born in Fort Bragg. Raised partially in Palm Beach county Florida and also here in Cumberland county North Carolina. She studied therapeutic massage at Fayetteville Technical Community College to become a licensed massage and bodywork therapist in the year 2017.
Michelle's experience includes Therapeutic, Deep Tissue, Swedish, Lymphatic Drainage, Prenatal. Aromatherapy and Cupping. Her extensive ongoing training helps individuals obtain pain relief from sore muscles, increase flexibility, get relaxation, improve circulation, speed up recovery from surgery, prep body f before surgery, get mental clarity, help prevent injuries and s recover from sports.
When Michelle is not at work she enjoys spending time with family, reading the Bible, learning, traveling, cooking and art.
Akejah McLaughlin, LCMHCA, is a provisionally licensed counselor and certified play therapist raised in Fayetteville, North Carolina. Akejah received a Bachelor of Science in Psychology from Methodist University and a Master of Arts in Education in Clinical Mental Health Counseling from the University of North Carolina at Pembroke.
Upholding the belief that each person possesses the inner strength to persevere, Akejah empowers clients from all walks of life who struggle with trauma, anxiety, depression, and other life stresses. Her therapeutic styles align with Cognitive Behavioral Therapy, Acceptance and Commitment Therapy, and Client-Centered modalities. Serving ages two and up, Akejah is devoted to healing minds one session at a time.
Outside of the office, Akejah enjoys video games, creative writing, and dancing with her two left feet.